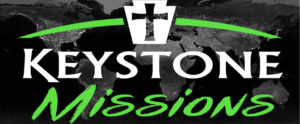 "Wherever you are, be all there! Live to the hilt every situation you believe to be the will of God."
― Jim Elliot, Missionary to Ecuador
Our mission can be in our homes, on the job, at the grocery store, or to someone in a foreign country. Everyone can get involved with Missions.
If you make donations to our missionaries, you are getting involved.
If you go on a mission trip, you are getting involved.
If you volunteer at a local event, you are getting involved.
If you pray and feel God leading you to a foreign field, you are getting involved.
Keystone Church encourages, and supports all efforts toward Mission work. We support our Congregational Methodist Missionaries
and the work they do in their fields, and we also have partnered and worked with other organizations with different projects.
To give to our missions and/or missionaries,
please use the "Donate" link below.
For more information on the missions we support
and how you can get involved, please reach out to us
using the "Contact Us" link
Use "Keystone Missions" in the subject line.
We look forward to hearing from you!!